About Bountiful Eatery
About Us
Bountiful Eatery is a cornerstone of the Lakeview community where customers feel comfortable and regulars dine in or order out daily. Bountiful is sensitive to the allergy sufferers, dieters, health conscious and workout enthusiasts seeking gluten free food. Bountiful Eatery is dedicated to the need for healthy and delicious gluten free foods while maintaining delectable tastes. We believe in serving this food at reasonable prices to our customers.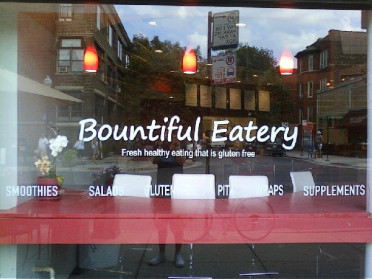 Bountiful offers made-to-order smoothies as well as other natural beverages. We also provide an assortment of hot items, including a bison burger. Not only is this choice all-natural, with grass-fed livestock and direct shipments from the farm, but bison is also one of the leanest, nutrient-rich and high-protein meats available.
Bountiful offers a variety of healthy salads. The goal is to provide fulfilling yet tasty selections with chopped vegetables, seasonings, along with unique elements, such as kale, to satisfy the customer's taste buds and nutritional needs.
Bountiful's menu also includes pita wraps, baked fresh daily at
Rose's wheat-free bakery
in Evanston. They're filled with fresh kale, spinach, zucchini, summer squash, marinated chicken breast or sliced turkey as options. And, soon to come, salmon will be served, too.
Bountiful also offers an assortment of soups, stews and chili, made fresh with seasonal ingredients.
Each customer has the opportunity to dine on one item with a side, or they can choose two half portion items, accompanied by a side.
For dessert, we offer a fantastic selection of seasonal fruit and fruit salads.
The Environment

The restaurant has a clean and open dining room customer can feel comfortable in. A bright and relaxing atmosphere is necessary to enjoying healthy, sustainable food. Bountiful Eatery prides itself on its attention to the quality of food used in its unique menu. By using the highest quality ingredients available to create incredible non-gluten and healthy foods, Bountiful strives to make eating both exciting and affordable. As the focus includes non-gluten foods, vegan, and pro-health, Bountiful is aware of, and caters to those with allergies.

For those healthy eaters or dieters we are a safe zone, where no candy or sweets are present to influence your decisions or impact that wonderfully healthy meal they just ate.
The staff prides themselves on having a vast knowledge of healthy eating, dieting and working out to provide balanced, healthy, nutrient rich meals.
About Manager and Founder Ed O'Brien
Ed O'Brien, the founder of Bountiful Eatery, brings several years of experience to Bountiful Eatery. Recently, Ed worked at Panera, the leader in fast casual dining. Ed has also worked for the Darden Corporation, who are the operators of Capital Grill, Seasons 52, Olive Garden, Long Horn, Red Lobster, and Bahama Breeze. Ed's first restaurant job came when he was only a teenager; he was as a host at Bennigans. Ed has worked on both U. S. coasts, from prestigious establishments like The White Hall Hotel in Chicago to the Polo Lounge at the Beverly Hills Hotel in California. He has also worked and studied at the Institute of Culinary Education in New York City, were he had the opportunity to work with Anne Burrell and Alex Guarnaschelli. He also met Rachel Rey, Rocco DiSpirito, Rocko's mom, and Ted Allen. Ed has a Bachelor's degree from Columbia College in Chicago and brings his presentation skills to everything he does.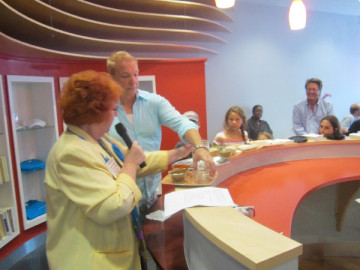 Check out the Holiday Class Schedule
Location
3312 N Broadway
Chicago, IL 60657
(
map
)
Hours
Monday - Friday:
Lunch and Dinner: 11 a.m. - 9 p.m.
Saturday - Sunday:
Breakfast: 10 a.m. - 1 p.m.
Lunch and Dinner: 1 p.m. - 9 p.m.
Phone: 773-687-9811